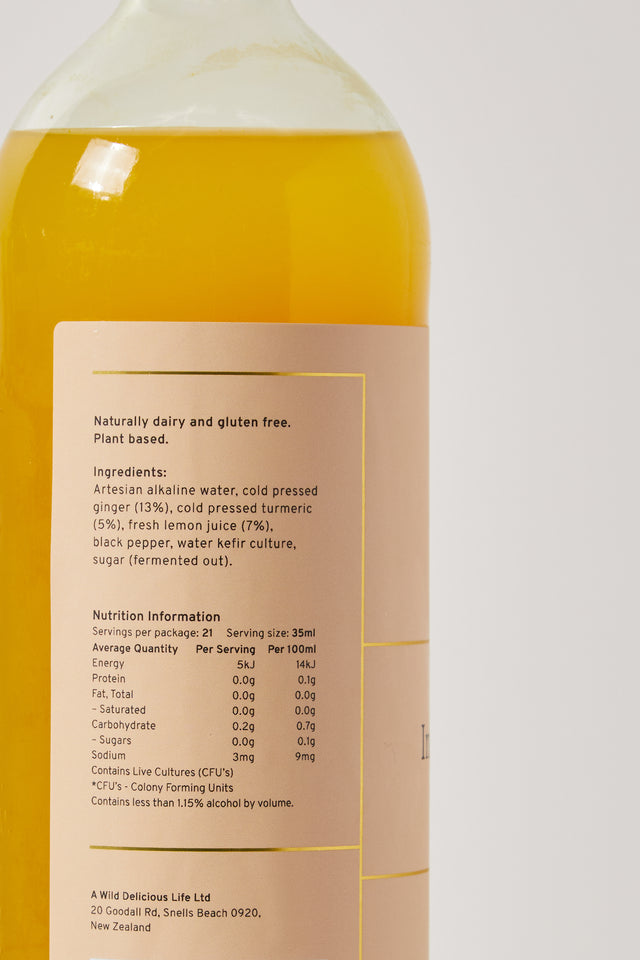 Probiotic Boost Shots, Turmeric, Ginger & Lemon
BOOST Gut Shots are strong. punchy and fiery.

Made with fresh lemon. cold pressed ginger and turmeric. well known for their powerful wellbeing benefits.
These boost shots are a powerful combination of gut goodness. containing 30 billion probiotics in every shot.
Hand crafted on the Matakana Coast, New Zealand.
Daily Dose: 1 to 3 x 35ml shots per day.

Naturally dairy free. Plant based.
Ingredients: Artesian alkaline water, cold pressed ginger (13%), cold pressed turmeric (5%), fresh lemon juice (5%), dried figs, dried dates, molasses, black pepper, water kefir culture, sugar (traces left after fermentation)
Shelf Life / Storage Information:

Wildly Probiotic shots are a live cultured, highly probiotic, living, medicinal drink. They need to be kept in the fridge. 
Our shots have a 12 - 14 week shelf life and can reach you with with Best before date with 4 weeks to 12 weeks and anything in-between. 
If you require a best before date on the longer side, please leave us a note in the comments section when ordering. 
Key benefits
PREBIOTICS & PROBIOTICS
Our gut shots contain prebiotics and probiotics for great gut health. 
POWERFUL WELL-BEING PROPERTIES
Wildly gut shots are super concentrated live cultured shots that have powerful well being properties. 
IMMUNE BOOSTING
Amazing for balancing the microbiome and boosting overall immunity.