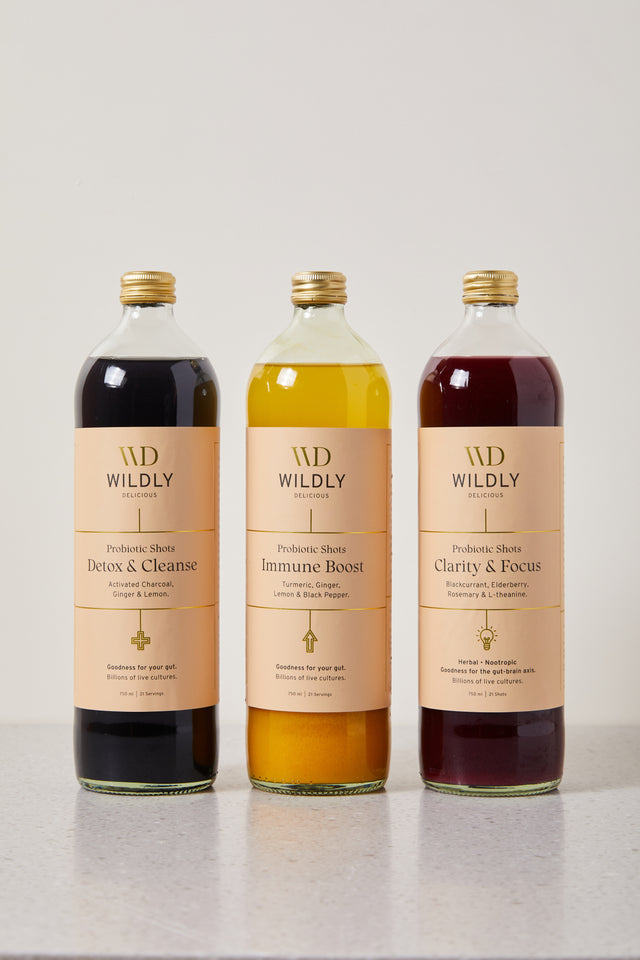 Mixed Probiotic Shots Pack
Try our Wildly Probiotic shots starter pack with one of each flavour - containing billions of live probiotics
Focus and Clarity - Blackcurrant, Elderberry, Rosemary and L-theanine - ingredients well known to support your focus and clarity.
Immune Boost - Cold pressed Ginger, Turmeric and Black pepper - keep it real with cold pressed ginger and turmeric known for their anti inflammatory and immune boosting benefits.
Detox and Cleanse - Activated Charcoal and Lemon to support your body to detox and cleanse.
Key benefits
PREBIOTICS & PROBIOTICS
Our gut shots contain prebiotics and probiotics for great gut health. 
POWERFUL WELL-BEING PROPERTIES
Wildly gut shots are super concentrated live cultured shots that have powerful well being properties. 
IMMUNE BOOSTING
Amazing for balancing the microbiome and boosting overall immunity.